11 Ideas To Build Team Culture In A Virtual World
How can you successfully build team culture in a virtual world?
The working world has changed forever in 2020! Covid-19 has impacted almost everyone on the planet. With the new working climate, comes some big questions worrying employees and CEOs alike about how to build culture in a virtual world
Do we need office buildings anymore? Will people ever chat again about their weekend exploits at the water cooler on a Monday morning? Will workers ever sit in a boardroom again with their boss using incomprehensible jargon for hours on end? (See, it's not all bad)
One of the biggest concerns for companies now is maintaining and growing office culture. As we discussed in a recent blog, Forbes wrote that team building increases productivity (taking part in trivia is their first entry to the list by the way!). So how do you implement team building now? And what other ideas are there for successfully building team culture in a virtual world?
1. Accept There are Benefits to Remote Working
It's not all Zoom and Gloom… The first step to building office culture virtually is for workers to accept and understand the benefits remote working can have on productivity. Studies have shown that at-home workers can often be happier and less likely to quit. A report by Harvard showed this after an experiment at a call centre in China. Obviously there are frustrations from working from home. The impact of children and pets being around, the mental health aspect of not leaving the house so frequently, and the implication to work longer hours as the desk is always there, 24 hours a day.
However, companies also benefit from remote workers themselves. Monster showed that it improves employee satisfaction, saves money, cuts down on wasted meetings, and increases collaboration. The talent pool can be expanded also, as workers can be employed from further afield if their need to go to a physical space is reduced.
The bottom line is we can't do anything about it – so let's make the most of the opportunities that remote work brings!
2. Create a Virtual Water Cooler
The 'water cooler effect' is such an important piece of the office working environment jigsaw that it shouldn't be forgotten virtually. 6Q recommends creating this space virtually on Slack or the like, a channel dedicated for the priceless banter that happens around the water cooler in the office. Read more about the Water Cooler Effect here.
3. Book regular fun virtual corporate events
[click picture above for demo video]
Bring in outside entertainment to boost morale on the team while building team culture. Having a new face organise the team building gives it an extra dimension to Dave from Accounts running a 100-question quiz about Star Trek… There are some providers specialising in virtual events – including us!
As we all adapt to a new way of working, here at Quiz Coconut we have to as well. Our large company events for 200-300 people, where all attendees participate in the same large room, are at a distant horizon for the time being. Shared pens and papers are a thing of the past, and as for wrapping a team member in tin foil and other ancillary materials – social distancing makes our traditional interactive challenges impossible!
However, where there are negatives, there are also positives. Geographic location is no longer important. Company teams from all over can be re-engaged, whichever time zone they happen to be in. We've entertained workers in Singapore, Ireland and UK in one event for EA whilst our host was in Canada at the time! Our events are now also more accessible, without the need for companies to book venues, deal with event planners, discuss dietary requirements and other related organisational faff.
Our virtual game show style events cater for up to 500 people, engaging them all simultaneously. Using Zoom we create a fun experience to break the monotony of remote work and give your colleagues a reason to laugh and banter with each other!
Find out more about our virtual events by going to this page: HERE
4. Make sure the culture is communicated
6Q writes a great blog about communicating values and distributing this to the team, as part of a foundation to build culture virtually. It might be difficult to understand for new employees since they're not being immersed in to a social office environment, so a simple list of the values most important to the company should be easily accessible! Some ideas are below, from buzzwords to short sayings or memorable mantras for the way businesses should be holding themselves accountable.
Suggested values from some of the world's biggest companies include:
Integrity
Quality
Stewardship
Personal Accountability
Empathy
Diversity
Be Bold, Be Open
Make Money Without Doing Evil
Quiz: Can you work out which of these belongs to Google? And which to Facebook?
5. Set Your Home Up Right
This is a fantastic article from Gensler with a cross section of how to / how not to set up your remote working space. How many of these pitfalls are getting you down? Working at the kitchen table on a conference call whilst your 3-year old is throwing their lunch on the floor? Working in a room with no natural light? On a terribly uncomfortable chair?
Key points:
Do set up a dedicated work area and have boundaries. This can make you 3x more satisfied!
Do keep havens like bedroom and outside space as 'unplug zones'.
Do use space effectively – bathroom for private calls, garage for noisier projects, kitchen for social activities.
Don't work from the bed.
Mess creates frustration.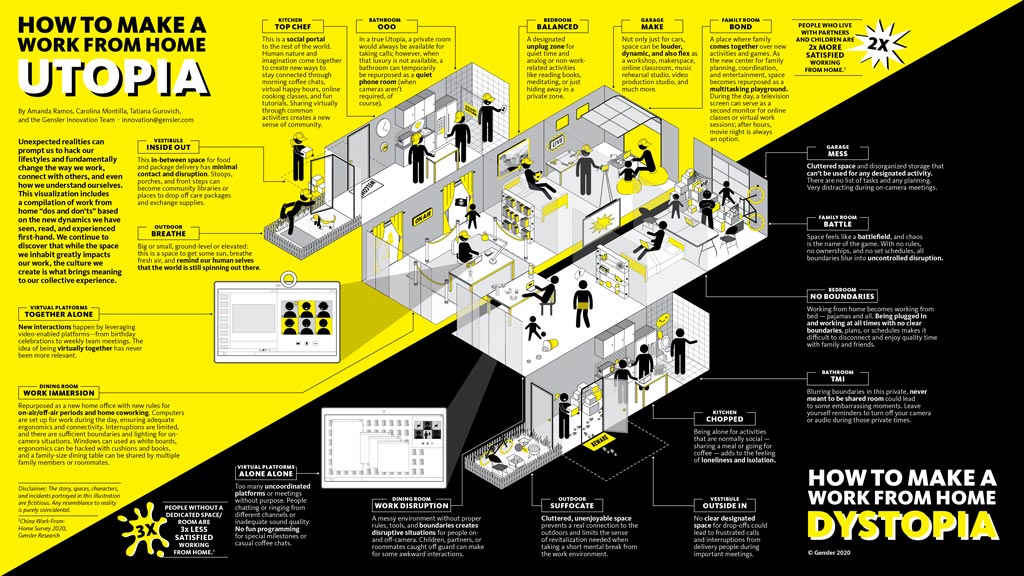 Image credit: https://static2.gensler.com/uploads/hero_element/15477/thumb_desktop/thumbs/WFH-Utopia-HERO-1024px_1585348719_1024x576.jpg
Another useful article can be found here: https://www.boulderhomesource.com/wfh-office-design-guide/ courtesy of the RE/MAX team in Boulder, Colorado. This has thorough walkthroughs of setting up a home office designed for success!
6. Stay Healthy
With gyms shut and limited activity venues open, this can be tough. A bike ride may now have you competing with hundreds of cyclists all desperate to do some form of physical activity. A minimum of 30 minutes of physical activity a day and a balanced diet is key to staying at your peak during remote working times. A healthier body leads to a healthier mind and therefore more positive office culture. At Quiz Coconut HQ, we've been enjoying the Jillian Michaels app in the mornings. 'Enjoying' is maybe a stretch as some parts are pretty gruelling – but we feel better for it!
In the office, typically you would get up out of your seat more often for breaks, bathroom trips, coffee rounds, water cooler moments (see above)… so ensure you also do that at home. Pop outside, walk around the block, cook something, sit in the sun or go for a winter walk in between Zoom marathons.
7. Culture Builds If You Don't Talk Shop All The Time
There is gentle balance to be had between your WebEx meetings starting with 30 minutes of inane weather chat, and piling straight in to work matters at 8am. Set aside 5/10 minutes at the start of the day for some real, friendly off-work chat to build culture.
How did your sports team do on the weekend?
Did you try your favourite restaurant with the new social distancing measures in place?
What's the best thing you've seen on Netflix recently?
Does anyone have a few terrible jokes?
Everyone has 15 seconds – let's go round and ask everyone what their highlight of the weekend was?
8. Turn Off When You Are Meant To
With a desk mere metres away from you in your home now – the temptation to keep working is greater than ever. Regardless of whether you really want to in your heart. Create time boundaries like you would do in the office. You finish at 6pm, after that is your time… Turn the computer off and do something to mentally signify the end of the day. Walk around the block. Have a beer with your partner. Put your phone in another room and chat with your family about their day or play with the kids. Then be ready to attack another working day at 9am, fully refreshed!
9. Turn Your Cameras On!
Make video conferencing more human and enjoyable. Of course, there are exceptions – home schooling interruptions or other private reasons. But if you can, turn the cam on!
10. Introduce new employees in front of the entire team to build culture
Think about being in an office, a new employee would be painstakingly walked round the office and introduced to the people he/she would be working with, and probably a load others too. Forget trying to remember everyone's names! We've all been there…it's impossible!
We've seen people book our events for social get togethers but also as an opportunity to welcome new staff, or bid farewell to those who are retiring. There is nothing more effective than getting new members laughing with their new colleagues to build culture in a virtual world!
11. Be Human
In the Gensler blog we mentioned above, they also focus on being human – creating environments where employees can be open and honest, able to speak up and allowed to bring their creativity to the forefront. It's a new time for most of us so learning to be more accepting, patient and collaborative is the key to fruitfulness. Recognise efforts of others, say 'Thank You', 'Well Done' and 'Can You Help Me With…?'
Summary
Who knows what the future holds? With companies like Amazon telling most of their office employees they won't be back in their Seattle HQ full-time until January 2022, and other companies expected to follow suit, the impact on office workers and the infrastructure around city business districts will be enormous. Office culture will be more important than ever – maintaining and growing the happiness and connectivity of the workforce is paramount.
Luckily Quiz Coconut is here for you. Build culture with our help. Book a virtual event or two and allow your colleagues to reconnect by laughing – maybe the best medicine for everyone working through a pandemic!
Email james@quizcoconut.co.uk or download a guide on our virtual events page here.